Overview
|
Rates
|
Hours
|
FAQs
|
Photos
|
Bookings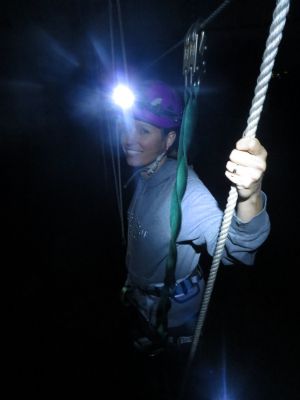 If you think Rise and Climb is fun during the day wait until you check it out at night! Climbing under the stars is awesome and we invite you to experience the thrill this summer on any given Thursday night during July and August starting at 8:30 pm.
You'll be trained, follow the same rules and use the same gear as day climbing but you'll also get a Headlamp that will light your path. Staff will be positioned strategically and we'll have glow sticks and moderate lighting here and there (along with flood lights if needed). But mostly you'll rely on the stars and your headlamp for illumination while navigating the course, taking the 40 ft plunge and zipping in the dark. You'll have a blast we just know it!
Space is limited so make sure you reserve your spot online today.
To reserve your spot payment must be made in advance otherwise it's first come first served.
Dates: Thursdays in July and August. Climbs begin at 8:30 pm and end at 11 pm. Please arrive between 8-8:20 to complete waivers.