Rise and Climb Adventure Course is an aerial adventure park also known as a high ropes course. Our course is designed to stretch you emotionally and physically. You'll have a blast experiencing the great outdoors while completing fun challenges suspended upwards of 40 feet off the ground.

Our High Rope Course is great for groups of all sizes. We are well suited for conventions, staff outings, office parties, corporate bonding and after work get togethers. Our course can build team unity, foster cooperation, provide leadership opportunities and is a lot of fun.

High ropes courses are very safe provided you use them as trained and directed. Participants at Rise and Climb are fitted with a standard climbing harness, a helmet and a two carabiner lanyard system. Our staff provide mandatory training on how to use the gear properly and participants must complete a low ground training course before moving onto the main course. Our guides will always be close by if you need advice or assistance.

We are located at the Terry Fox Sports Complex in Cornwall, PEI. The adventure contains more than 50 challenges to enjoy and takes approximately 2.5 hours to complete. You can sign up for any of our packages but can always upgrade once you get going.
Facilities
At Rise and Climb we have something exciting for the whole family. The Big Adventure Course is our flag ship with 3 levels and 50 elements stretching 40 feet above the ground. We also have a Kids Adventure Course tailored for youth 6-12 years of age. Our 600 foot long Tandem Zip Lines will get your heart racing as the wind blows through your hair. Outdoor Laser Tag is our twin attraction at our same location. It adds a whole new dimension of fun.

PLEASE NOTE: Closed toed shoes (such as sneakers) are required.

For more details on each, click on the links below:
Big Adventure Course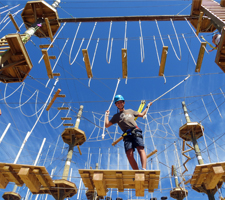 3 Levels; 15-40 ft off the ground
Approximately 50 elements
1.5 to 3 hrs to complete
Learn More
Kids Adventure Course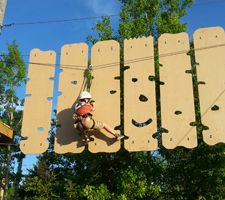 For youth 6-12 yrs of age
10 elements & zip lines
1 to 1.5 hrs to complete
Learn More
Tandem Zip Lines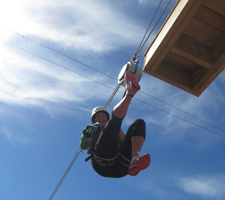 600 ft long side-by-side zip lines
30 feet off the ground
1 to 1.5 hrs to complete
Learn More
Outdoor Laser Tag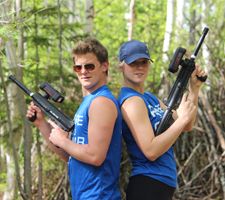 Same location, twin attraction
High Tech equipment
1 to 3 hrs of fun in the woods
Learn More
Night Climbing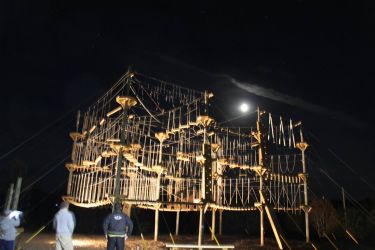 Climbing in the dark
Headlamps guide your path
2.5 hrs of fun on all 3 Levels
Learn More